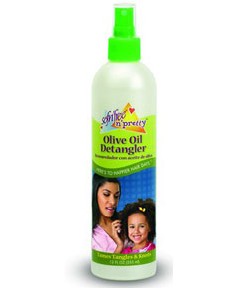 Sofn'free n'pretty Olive Oil Detangler
Product Description
Daily leave-in designed to detangle all hair types. Prevents breakage and promotes growth. Tangled hair accounts for most of the hair found in children's brushes and combs. Tangled hair breaks and tears from tugging and pulling trying to style children's hair. Olive Oil Detangler separates strands and makes it possible to comb and brush hair without the interruption of tangles, snarls and knots.
Ingredients
Water, Glycerin, Propylene Glycol, Cetrimonium Bromide, Polysorbate 20, Imidazolidinyl Urea, Peg-75 Lanolin, Benzophenone-4, Olea Europaea (Olive) Fruit Oil, Hydrolyzed Soy Protein, Methylparaben, Mineral Oil, Aloe Barbadensis Extract, Melaleuca Alternifolia (Tea Tree) Extract, Fragrance, Amyl Cinnamal, Citral, Limonene, Linalool, Blue 1 (Cl 42090)
Directions
Spray hair with Olive Oil Detangler then massage hair to distribute evenly. Hold hair firmly between finger and thumb and comb or brush from the ends to the scalp. It is best to do a section at a time working your way down the strands.
Our Review
Color: Clear
Scent: Olive oily/hard to pin point
Texture/Consistency: Oily watery spritz
Cost: Under $5.00
This was a product that we got WAY back when in the beginning of our hair time and i was in need of something to help with the massive tangles that consistently reared there heads! Diva R's hair has been either very tangle less or very tangle prone no where in between. I was a newbie so i just went to my local beauty supply that i have been going to from day 1 of my curiosity towards the care of natural curlee hair. The thing that got my attention most back when was the kids on the bottles. When i seen a bottle with kids on it i just assumed that it was meant for kids and it was safe, tear free, and good to use. I did read bottles but the ingredients were foreign to me so it just went out of my mind just that quick.
This is a light weight seeming product and it intrigued me because we never really looked for a leave in nor a detangle spray so i scooped it up. I first began using this on Diva R's wet hair after she got out of the bath.

(I was using Johnson and Johnson shamp and conditioners unfortunately :()

I used to comb it in with the help of my fingers too sliding through her many tangles that would occur between washing days. The spray nozzle was nice it provided a nice even spray which was generous and covered a nice sized area. (This tends to be a big deal to me because i totally despise product nozzles that shoot little bullet spritzes or that emit clouds.) It had a pleasant softer scent to it, nothing fragrancy but it wasn't appalling or bad smelling either.
I would say that it worked pleasantly as an oil sheen spray minus the weight and oily texture that a pure mineral oil would leave. It was nice as a detangler but only on Diva R's wet hair, when i used this on her damp hair it didn't work as well and it was harder to work the tangles out. Of course on her dry hair it was a night mare trying to get tangles out with this detangler. Its claim of being a "leave in" puzzled me because of course this isn't a wash out product but it sure isn't leave in quality in my opinion its just an oil spray. It doesn't condition what so ever and it does have to be reapplied multiple times for it to be effective. It also left an oily film on my hands afterwards. I didn't notice any buildup caused by using this and we used it for several months consistently until i switched to another detangler in hopes for better results.
It preformed decent overall but i wouldn't say it was great nor would i purchase it again. It didn't last long either... This i am willing to be would be terrible on type 4 hair because it has zero absorption abilities so it would just run off :( Diva R and her newly changed 2ab/3ab hair type from 2ab/3a didn't absorb much when it was applied but her curls were defined while it lasted.
Due to all of the bad ingredients no wonder why it didn't preform well as far as moisture/leave in's were concerned. Though it didn't claim to moisturize it did claim to be a conditioning detangling spray. It left her hair dry and damage susceptible. This product is loaded with horrible ingredients of which diminish the few goodies in it. Mineral oils are just awful :( This one will go in to the hall of shame....
As a side note: The moms face on the bottle is kind of weird, its almost like she smells something bad or is disgusted LOL Poor kid
Diva R's Mommy-Kim